There are a lot of great reasons to have a rustic wedding day: barns are a natural setting, such as a Kent Barn Wedding, and farm-themed venues often offer the perfect mix of indoor and outdoor spaces. But even if you don't have a picturesque barn at your disposal, you can still lean into the rustic theme with a few easy ideas.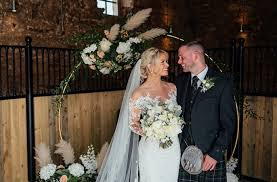 Start with the venue. A rustic-chic location should have plenty of outdoor space, and the addition of some wooden beams or a gorgeous barn door can add just enough rustic flair to your ceremony and reception. For an extra visual pop, drape some vines and greenery over the bare wood to create a lush backdrop. Find out about a Kent Barn Wedding by visiting The Plough at Leigh
Then, bring the vibe to your seating arrangements with birch place cards (that double as a sweet wedding favour). Another budget-friendly way to evoke rustic elegance is by using mason jars for your centrepieces or as an alternative to floral votives. Add a hint of the countryside to your menu with a rustic calligraphy font or copper tones on your paper elements.
Lastly, don't forget to incorporate the organic and sustainable theme into your grand exit by choosing natural alternatives to confetti. Have guests toss handfuls of olive leaves, calendulas, or rose petals instead of the traditional tin cans and feathers.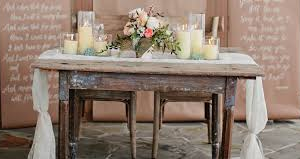 If you're looking for a colour palette to match your rustic wedding theme, opt for shades of tan and blush pink. These colours are subtle enough to stand out against your wooden decor and natural textures, and they'll complement the full foliage of summer or the rich hues of autumn.